Jpanese Page | Home > Mac Soft
---
| | |
| --- | --- |
| | DupScan |
| | searches the duplication files in the specified folders |
| | |
| --- | --- |
| Current Version: | 2.4.1 (32-bit Universal Binary) |
| Release Date: | 2009-09-29 |
| System Requirements: | Mac OS X 10.3 or later (Snow Leopard compatible) |
| Language: | Japanese, English |
| License: | Freeware |
| File Size: | 1.1 MB >> Download now |
---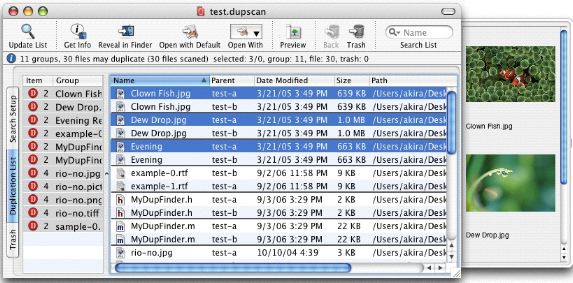 Description
DupScan is a Cocoa application that searches the duplication files in the specified folders. It detects the duplication files to which all specified attributes (such as name, file type, date modified, CRC) are corresponding.

You can specify suitable comparison condition for searching duplication files. It detects, for example, the files that have the same contents (may have different file names) if you specify "CRC" or "Contents". It also might detect backup copies which have the same name and different contents if you specify "Name" and "Date Created".

You can delete extra files in the duplication files after checking these by using various functions of DupScan (sorting, preview and open by default application etc.).

You can move selected files in the duplication list or trash list to the Finder Trash, specified location and so on using AppleScript droplets in the archive.
What's new?
system requirements changed from Mac OS X 10.2 or later to Mac OS X 10.3 or later
image-Interpolation behavior added to image preview
deprecated APIs changed to new APIs
bug fixed: progress sheet does not dismiss on Snow Leopard
bug fixed: cannot display help or cannot search keyword while some conditions.
Installation
Drag DupScan to /Applications or ~/Applications folder.
Uninstallation
Throw away DupScan and ~/Library/Preferences/jp.ne.wind.miko.DupScan.plist into the trash.
Download old version
Version History
DupScan Version History
---
Last updated: 2010-03-20
---
Copyright (c) 2003-2010 MIKOZAWA Akira. All rights reserved. e-mail: miko@mail.wind.ne.jp