Jpanese Page | Home > Mac Soft > Contextual Menu Plugins for Mac OS X

---
| | |
| --- | --- |
| | AmDeleteDS_StoreCMX |
| | removes .DS_Store files in the selected folders from contextual menu |
Current Version:
2.0
Release Date:
2007-09-15
System Requirements:

| | |
| --- | --- |
| Universal Binary(UB) version: | Mac OS X 10.4 or later (intel Mac or PowerPC Mac) * |
| PowerPC(PPC) version: | Mac OS X 10.1 or later (PowerPC Mac only) |

Language:
Japanese, English
License:
Freeware
File Size:
26 KB >> Download UB version / 20 KB >> Download PPC version
* does not work on Mac OS X 10.6 (Snow Leopard) or later. please refere to Mac OS X 10.6 Snow Leopard Compatibility List.
---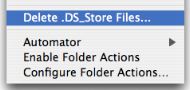 Description
AmDeleteDS_StoreCMX is a contextual menu plugin, which allows you to remove the .DS_Store files inside the selected folders from contextual menu.

Finder stores information of icon location etc. of each folder to .DS_Store file. It is invisible file on Mac OSX, but It might be displayed on other platforms (Mac OS and Windows, etc.). Deleting it is more suitable when a certain folder is sent to other platforms or is shared. When the DS_Store file is deleted, Finder will make this file if necessary.

Refer to Contextual Menu Plugins for Mac OS X how to install a plugin etc.
Version History
| | | |
| --- | --- | --- |
| 2.0 (UB/PPC) | 2007-09 | Universal Binary / PPC regular version |
| 2.0d1 (UB) | 2006-03 | Universal Binary development version |
| 2.0b1 (PPC) | 2005-10 | porting from CodeWarrior to Xcode and rewrite all. (not released) |
| 1.0 (PPC) | 2004-01 | |
---
Last updated: 2009-08-29
---
Copyright (c) 2004-2007, 2009 MIKOZAWA Akira. All rights reserved. e-mail: miko@mail.wind.ne.jp