Jpanese Page | Home > Mac Soft > Contextual Menu Plugins for Mac OS X

---
| | |
| --- | --- |
| | AmTouchCMX |
| | changes file/folder time stamp from contextual menu |
Current Version:
2.1
Release Date:
2007-09-15 (UB) / 2006-10-07(PPC)
System Requirements:

| | |
| --- | --- |
| Universal Binary(UB) version: | Mac OS X 10.4 or later (intel Mac or PowerPC Mac) * |
| PowerPC(PPC) version: | Mac OS X 10.1 or later (PowerPC Mac only) |

Language:
Japanese, English
License:
Freeware
File Size:
43 KB >> Download UB version / 30KB >> Download PPC version
* does not work on Mac OS X 10.6 (Snow Leopard) or later. Please refere to Touch Files Automator Action for substitue.
---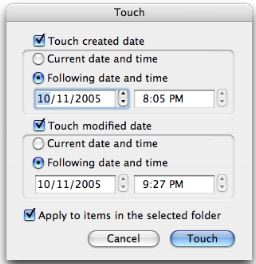 Description
AmTouchCMX is a contextual menu plugin, which allows you to change time stamp (date and time creation/modification) of the selected items from the contextual menu. You can set date and time creation and/or modification to current or specified date and time.

It is also possible to change the time stamp of the folder and all items included in the folder in bulk.

Refer to Contextual Menu Plugins for Mac OS X how to install a plugin etc.
Version History
2.1 (UB)
2007-09

Univesal Binary regular version

2.1 (PPC)
2.1b1 (UB)
2006-10-07

setting "Following date and time" values to time stamp of a selected item command added.

2.0 (PPC)
2.0d1 (UB)
2006-03-02

porting from CodeWarrior to Xcode and rewrite all.
Universal Binary version released.

1.1 (PPC
2004-04

moval dialog
bug fixed: cannot change date and time on the operation dialog with key in (Panther)
bug fixed: cannot cancel by command+. (Panther)

1.0.1 (PPC)
2003-10
1.0 (PPC)
2002-11
initial release
---
Last updated: 2009-09-28
---
Copyright (c) 2002-2007,2009 MIKOZAWA Akira. All rights reserved. e-mail: miko@mail.wind.ne.jp